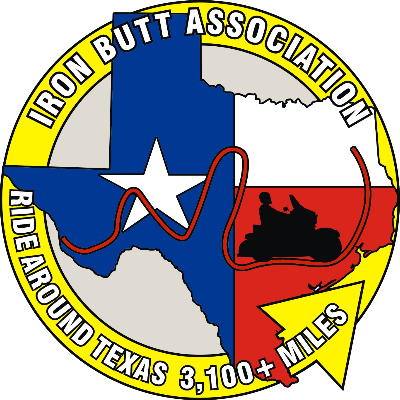 The Ride Around Texas Insanity
is a long distance motorcycle event sponsored by the
Motorcycle Tourer's Forum
and certified by the
Iron Butt Association
.
Sixteen
,
fifteen,
Fourteen
RAT Riders
will motor the 3,100 miles around the border of Texas in either 70 hours for Insanity Gold certification or 85 hours for the Insanity certification. Rider will follow strict event rules and guidelines to secure a dated business receipt at mandatory checkpoints along the clockwise route. The start and finish are at the Quality Inn, Childress TX. Riders will depart between 5:00 and 6:00 AM on Monday, May 5, 2014.
I'm doing the MTF Ride Coordinator/Event Manager duties.
Where's Tim?
Texas Weather
SpotWalla Location Page:
Last reported location of RAT Riders (LID=Name) who joined the location page. SpotWalla link. Click on their names to bring up their individual tracking maps.
Rider ID and SpotWalla Links
:
H16=John Cooper
,
NRG=Nick Getzendanner
,
jm=John Martin
,
RFR=Robert Rehkopf
,
PFS=Paul Slaton
,
IBB=Dennis Archer
,
RGR=Rich Rulau
,
#F=Rex LeGalley
,
RAB=Roger Buis
,
DRG=Dan Buis
,
Everett Layton
,
Gathering of the RAT Riders
: Several riders are arriving at the Childress Quality Inn host motel on Saturday with the remainder arriving on Sunday. I arrived around 14:30. It was a toasty 96F in Childress and winds were gusting out of the south. Met up with early arrivals Rich Rulau, Robert Rehkopf and John Cooper. After a tasty meal at Subway we all chatted about biker stuff before turning in for the night. On Saturday the rest of the RAT Riders arrived and we captured the moment ans Rex LeGalley arrives. It was near 100F but Rex sets the LD rider ATGATT example.
The RAT Pack
Javier gets a witness
Doni and Javier join the RAT Pack
Pre Ride Administrative Stuff
: Late afternoon on Sunday I'll conduct the rider's meeting. A brief overview of the sequence of events, Q&A, ending with me witnessing each riders documents. Riders rolled in one after another. We conducted the Rider Meeting about 5:30 then proceeded to do the obligatory and all important start witness ritual. Afterwards we wandered down the street to have a hearty meal together.
Goings On Along The Way
Wednesday 5/7:
I'm heading back up to Childress for the finish. Should be on site by 15:00 or so. This will be day 3 for the RAT Riders. The miles, heat, stresses and the clock start to take their toll. For the 70 hours RAT Riders, the clock runs out a little after 3 AM on Thursday.
Just outside of Roma Doni Evans got a flat tire. He was riding with Javier when it happened. And, they managed to get to McAllen were Doni is awaiting repairs. The good news is Doni was able to limp the motorcycle to the Kawasaki dealer in McAllen so no need to back track. John Martin also suffered a tire puncture last night. Got it plugged and rode to Houston to get a new tire. He'll be finishing the RAT but may not make the 70 hour finish time.
I arrived back in Childress around 2:15, it was 101F just outside of town. So, the RAT Riders were being treated to another warm Texas afternoon. There were scattered rain clouds with some showers visible.
Tuesday 5/6
: Rested after a full day of riding the RAT Riders are on the move again. Rex LeGalley would appear to be on
BunBurner Gold
pace as he approaches Del Rio around 7 AM. Most everyone else are strung out between Van Horn and Marathon. The weather is still good riding with little threat of thunderstorms until later in the day.
The dynamics of
riding on the clock
plays out as each rider's sustainable pace begins to show. Even though they started virtually at the same time, approaching 35 hours into the 70 hour RAT Insanity Gold, riders are spread out over hundreds of miles. Javier is signed up for the 85 hour RAT Insanity event, so he's got a lot more time and more relaxed ride pace. Each rider has different knowledge, skills and abilities they apply while riding. The personal challenge each rider faces is balancing all the performance elements in such a way as to get to the finish in one piece and on time.
The RAT guidelines and rules state that each rider must obtain a dated business receipt at each of the mandatory checkpoints. And, in the spirit of the Ride Around Texas each rider is encouraged to follow the MTF designated route. Riders have some leeway in this regard. You will see the purists ride US 83 from Laredo (not a checkpoint). via Zapata, towards the next checkpoint at South Padre Island. Some riders might elect to continue east from Laredo to US 281 then south towards McAllen/Harligen.
16:45:
Got a call from Rex LeGalley. He just scored a SaddleSore 2,000 Gold, 2,000 miles in less than 36 hours. Childress, all around the border of Texas to South Padre Island. Rex holds several IBA records for long distance challenge rides. He's a
Mile "Over" Eater
gluten.
18:00
: Tracking all riders is working well. Only two RAT Riders do not have tracking devices. Doni Evens and Mort Hudson. Doni is riding with Javier, who sent me a text while he and Doni were in Del Rio. Mort is part of the Hoka Hey Bunch. He hasn't checked in yet but expect it soon. So far, all is well and the RAT Riders are alive and kickin!
Update:
Hoka Hey Bunch all accounted for.
Monday 5/5
: The RAT begins! The good folks at the Quality Inn were happy to start their near full breakfast starting at 4:30AM for the Riders. Riders are departing between 5:00 and 6:00 by starting their ride clock with a dated business receipt. The gas station next to the motel has their pump and cash register clocks set to Central Standard Time, or an our behind CDT. No worries, just a simple admin note on the DBR can correct that. The weather is going to be HOT....welcome to Texas! Check out Everett Layton's link above. It's the US Fleet Tracking application and it's pretty cool. The Hoka Hey Bunch, Buis Boys and Mort Hudson are group riding the RAT with Dan, Roger and Everett being tracked by the USFleetTracking.
Departure went off on schedule with all 14 RAT Riders heading north. As the day wore on they made their ways up, across and down the pan handle. About 8 PM Javier and Doni diverted off US 180 to get some fuel in Dell City. Then back on route heading for the Trans Mountain Pass. By night fall several riders were leaving Anthony, through El Paso heading towards Van Horn. As of 9pm the Hoka Hey bunch was fueling up at the Pilot station in Van Horn. Just a few miles ahead was Rex, heading south east towards Marfa. Leading the pack on this first day is Rich Rulau. It will be interesting to see where the riders will rest for the night.
The RAT Riders Return
: Starting early Wednesday afternoon and well into the evening RAT Riders began arriving back at the motel. The Hoka Hey Bunch arrived as a group, as they were throughout the entire ride. As of late Wednesday riders were trickling in one at a time. A couple of the early arrivals need to leave so we assembled their documents, recorded them and the departed for home. Most other riders would postpone documentation after a good nights rest.
The Hoka Hey Bunch arrives
As of 2 PM all riders are accounted for. Javier was weather delayed a little west of Texarkana and is on his way to the finish. Doni Evens elected to not finish the ride. John M and Dennis A are doing their documents package as I type this. So, the ride isn't complete till the paperwork is done.
Collection of the Documents
: On Thursday rider will start to package their ride documents by putting their dated business receipts into chronological order on sheets of paper. This will help with the verification process done by the MTF. The rider get to keep their documents. After assembled I take high resolution pictures of each page. These will be posted on a Google drive accessible by the verification team.
Adios Amigos
: A few of the RAT Riders and I are going to enjoy one last RAT meal before departing in the morning on Friday. I plan on heading west to scout out my next Hard Riding Adventure. This one is coming to a close...