It's that time of year again! Time to head to the
Iron Butt Association Daytona Party
to kick off the spring riding season. Held in Jacksonville, FL at the end of Daytona Bike Week this annual event is host to one of the largest gatherings of long distance riders anywhere in the world. Always a treat to mingle with LD comrades.
SpotWalla Map
Thu, 3/16:
Got drafted to help pass out the flags to the rides participating in the Zaddle-Zore 1,000 and 1,500 Bun Burner Gold rides. Was fun to see all the riders bundled up in their cold weather gearas the morning temperatures were in the low 30s this morning. Many riders who live in the north got hit by bad weather. Some decided to wait it out and still other cancelled all together. But, there still was over 75 riders departing out from the hotel at about 7am for the ride. They won't be trickling back in till late this evening for the 1,000 riders and well after midnight for the 1,500 riders.
Wed, 3/15
: It's an easy 300 mile to Jacksonville and I left the hotel about 7:30am. The sun was rising in the clear and cold skies as I headed east along I-10. It was 37f chilly but again I was warm and comfortable in my most excellent riding gear. Stopped for gas and a cup of coffee on the other side of Tallahassee. The last 110 miles to Jax went well and I arrived about 13:30.
Tue, 3/14:
I'm departing at sunrise along I-10. I'm going to take it easy because I have lots of time to get to Jacksonville. Plan on arriving mid day on Wednesday. Weather is supposed to be just great between Texas and Florida.
The weather was great. Bright and sunny with temperatures in the mid 50s. I was plugged into the bike and toasty warm with my heated gear. Stopped for a late lunch eary dinner at Burger King before riding on to Crestview FL for the night.
The IBA Daytona Party
- There are always lots of things to do at this gathering to keep busy.
The Iron Butt Rally
is happening this year and many of the veteran and rookie riders of this years IBR will be attending the JAX party. For the rookie IBR riders it's a great way to pick up a few tips on riding "
The World's Toughest Motorcycle Rally.
"
Many LD riders, about 30, are doing IBA challenge rides on the way to Jacksonville. And, it that wasn't enough, on Thursday, March 16, close to 90 riders will be participating in the JAX 1,000 or BBG (1,000 or 1,500 miles in less than 24 hours)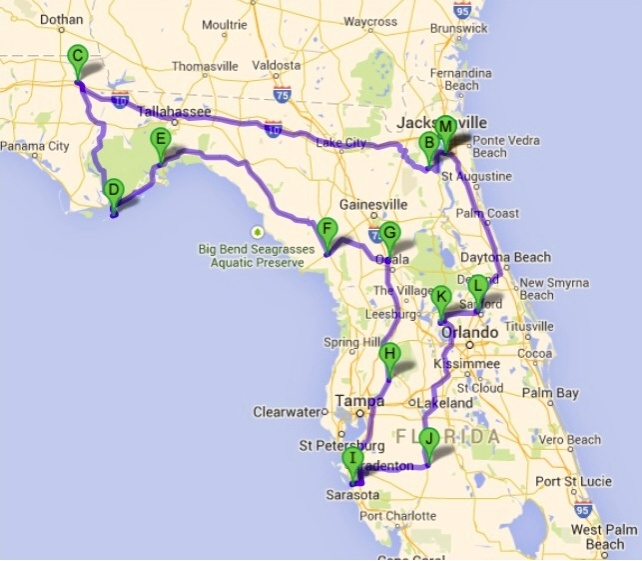 JAX 1,000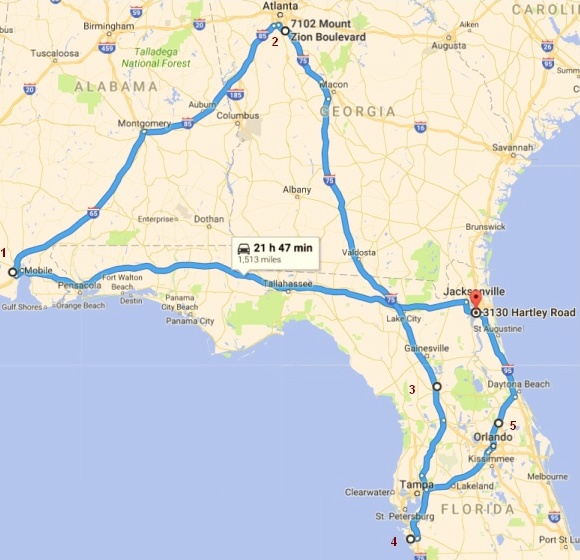 JAX 1,500
Mike Kneebone, IBA President, will be hosting the special presentation ceremony to all successful participants in the JAX 1,000/1,500 on Friday afternoon. The evening in then topped off with lots of presentations at the Friday night banquet dinner.