Ride 1,500+ miles in less than 24 hours multiple days in a row.
WARNING
: This
Xtreme!
motorcycle event is being performed by an experienced, but still amateur, long distance motorcyclist, on the public highways, actively observed by LEO of multiple jurisdictions, in whatever weather and traffic that happens along the route, without permission, endorsement, authorization, encouragement, or even a note from his
Mother!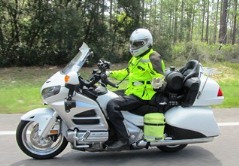 Greg Rice is one of my IBA comrades. He has asked me to be his turn around witness while he rides the
BunBurner Gold Trifecta
, the weekend of June 14. This
Iron Butt Association
certified challenge ride consists of three consecutive BBG's. Each of the three BBG must exceed 1,500 miles and be ridden in less than 24 hours. He may do a 4th BBG if he's feeling good. This blog posting is a peak inside the extensive planning, preparations and conditioning required, to maintain the consistent ride pace, manage resources, rest and risks, to be successful. You can follow along with Greg via the SpotWalla map below.
SpotWalla Map -- Click this link to see Greg's full map.
Where's Tim
(
During Greg's BBG Trifecta attempt I will be posting updates, pictures, and ride following observations below, with the latest posting at the top.
)
Current Weather Maps
Congratulations!
He did it....and with the style and flare we've come to expect from
Travel_Man
.
Tue 2310:
Success!
Greg arrived at the Ely finish with time to spare.
Tue 1915:
As Greg approaches the AZ/NV border he is entering the final stretch to the Ely finish. It's about 270 miles and around 3:30 to the conclusion of the BBG Quattro. Still has to negotiate rush hour traffic through Las Vegas, but I wouldn't expect that to be too tough of a challenge give what Greg has accomplished so far.
Tue 1200:
It is just 1000 as Greg approaches Albuquerque and hopefully rush hour traffic is winding down. Greg slept in an extra hour before heading out on his 4th BBG. He wanted to maximize his rest after the Trifecta. His start DBR at Junction was around 0215 CDT. Ely, NV is PDT. So, he needs to arrive at the finish by around 2300 PDT to be within the 96 hours from the 0200 EDT start on Saturday . At his demonstrated pace that would afford him a couple hours of slack time,
Tue 0307:
Behold, The BunBurner Gold
Quattro!
By now you may have deduced this epic IBA challenge ride was going to turn out to be something more than just another BBG Trifecta. In the works and planning for some time, Greg got the blessing from Mike K to attempt, and if successful, submit for certification the Quattro. That was back in March while he and I attended the IBA Annual Dinner. Greg invited me to help when I suggested the name for this 'proof of concept' ride. So, if Greg makes it to Ely, NV before 0315 EDT Wed he will have moved the BBG class bar up a notch. But, hold the applause. It is still subject to Mike's approval before the Quattro gets put on the IBA challenge ride menu.
Mon 2130:
Trifecta Perfecta! Number three is in the baggie filled with DBRs. Oh yeah, and the witness forms. But wait! What now? I guess the same old same old... refuel, refresh, replenish then REST. Four, tomorrow is another day!
Mon 1915:
West Texas is famous for its dramatic weather. As it would happen a gully washer of some note hit Fort Stockton just as Greg was approaching. He could see it on his on board weather radar, and he even hung out at Balmorhea for a bit. By the time he got to Ft Stockton the water accumulation had flooded most of the low part of town. A semi was blown over during the storm which closed the Interstate causing Greg to go around the mess, and right into the flooded areas. He's working through the navigation issues and is trying to get back on track.
Mon 1500:
As Greg nears Deming NM he's about two thirds the way back to Junction. By the time he finishes BBG3 he will been riding his Goldwing 60 hours since leaving his Florida start point. Like many long distance riders Greg has made his motorcycle a 'comfort' zone. What that really means is Greg has worked to eliminate all the issues that cause 'comfort' stress. Those annoying things that if not corrected will cause a distraction from the riding task. Check out Greg's comfort farkles using 'The Machine' link below.
Mon 0215:
On the road again. Same route, same plan. This is the final leg of the BBG Trifecta, but not the end of Greg's ride.
Sun 2130:
Two down and two, uh, I mean, one more for the BBG Trifecta. Same routine as BBG one. Refuel, refresh, replenish and rest.
Sun 2000:
I arrived back at Junction after riding to Van Horn and back. It was warm starting around 1300, and got up to 105f as the day wore on. Greg was riding in some of the same temps. I was trying out my new LDComfort skull cap. Dry, not much of a comfort difference. Wet, only slightly more comfortable. I'll try it again in my
Texas I-10 Solstice 'Day Ride'
next Saturday and let you know if I will integrate the skull cap into my 'comfort' system. I'm sitting at the gas station waiting on Greg to show up. Last I checked he was near Ozona.
Sun 0900:
Happy Father's Day! Greg is almost to Lordsburg NM with the morning sun to his back. By the time he reaches the Tucson turnaround it will be mid day. I'm going to do riding in the local area most of the day.
Sun 0202:
Start of BBG number 2. Junction to Tucson to Junction. Nine hundred miles of 80 mph and the rest of the 1,520 at 75 mph. There will be less traffic on this leg than on the leg from Florida through to Junction. It's going to warmer though. Once he passes Ozona Greg will be riding in desert all the way to Tucson.
Sat 2140:
Arrived Junction way ahead of schedule. Must have had a tailwind most of the way. Of course, Greg does manage his pace well. Not for a quick refuel, shower and a Quarter Pounder with cheese and some fries from McD's. This was the easy BBG. Riding over 1,525 miles would be tough on most any rider. But for the BBG Master it was a good days ride. Arriving early means more sleep.
Sat 1330:
Making good time. Must be the smooth traffic flow on I-10. At this rate Greg will probably make Junction by around 2215 or so this evening. I'm heading out towards Junction, leaving around 1600, going to take a scenic route. Greg has already made motel reservations for the both of us. I'll pick up the keys so he won't have to mess with check-in when he arrives. My plan is to meet him at the gas pump when he arrives and do my witness duties as he refuels.
Sat 0900:
Greg is off to a good start a couple minutes before 0200. He made the JAX DBR corner about 20 minutes ahead of predicted time. The weather ahead on I-10 is looking pretty good and he should make the Alabama border around 1130 EDT...or 1046.
Ride Itinerary:
The table below is a schedule for each leg of the event. Each BBG is considered a leg. Each leg is divided into segments based on time, speed and distance to key route points, like route corners and the turn-around locations. These are my calculations based on the route Greg chose. I applied his parameters for average pit stop time, planned rest periods and his anticipated riding time for each of the route segments. See:
BBG-Q Rally Leg Plan Tool
(MS Excel)
Note:
Times are listed in EDT. Same time zone as will be posted by Greg's Spot messages and tracks.
(
DBR = Dated Business Receipt
)
Planning
: Being successful at this kind of long distance ride takes meticulous planning. Selecting a route, timing out arrival times to each key way point, gas stops, rest points and witness points involves using mapping software and customized applications. He uses his own proprietary scheduling application to provide information about his ride pace, pit stops (
refuel, refresh, repair
) and rest stops. Like many in the LD community Greg uses on board navigation, weather radar, real-time traffic, and communications equipment. Each leg of the entire route has been plotted, documented and uploaded to multiple GPS units. Back up documentation and even paper maps are included.
Route
-- The basic route Greg selected is starting near his home in south Florida, to Junction, TX, to Tucson, AZ back to Junction, then on to Ely, NV for the start of the
"Poison" Rally
Over 90% of the route are on Interstate highways with the remainder on major US roads. State Road Conditions:
FL
,
AL
,
MS
,
LA
,
TX
,
NM
,
AZ
,
NV
Ride Pace
-- The key to successful long distance riding is a steady pace. Greg will strive to maintain a consistent ride pace based on the legal speed limits, as adjusted for the flow of traffic and road conditions. The ride pace takes into account time used for riding, pit stops and rest stops. Good intel about current weather, ongoing construction, traffic and other issues will affect pace and navigation. Greg has committed to a mandatory 4 hours of quality sleep each 24 hours, in a motel, at Junction, TX (See --
Fatigue and Motorcycle Touring
)
Preparations
: Like many in the LD community Greg keeps his motorcycle and gear it rally trim. Greg whet through a major upgrade of his gear and equipment prior to the 2013 Iron Butt Rally. Your can see the preparations Greg made to his Honda Goldwing, "
The Machine
"! Things Greg did specifically to prepare for this BBG Trifecta + are listed below.
New Olympia AST 2 Hi-Viz jacket
New boots
New deerskin gloves
New LDComfort tights and top
Cleaned Aerostich AD1 riding pants
New tankbag setup, may mount a Microsoft Surface with GPS antenna
Changed air filter
Changed sparkplugs
New helmet faceshield and sun visor
Integrated the audio from the Garmin 2797 into the Gold Wing's intercom system so I can hear the audio along with other GPS's and radar detector and cell phone
Updated the maps on the GPS's
Cleaned the Aerostich Hi-Viz tank panniers
New tires
Changed oil and filter
Changed rear gear lube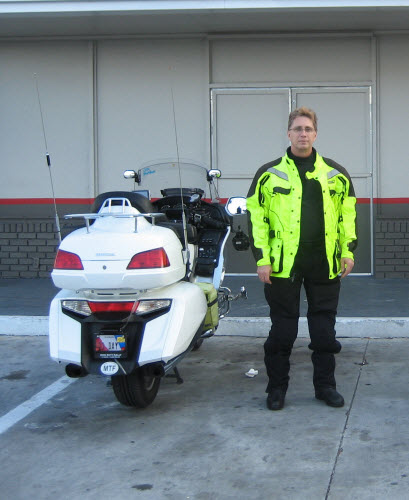 About the Rider
: Greg is regarded in the long distance community as a specialist of the BunBurner Gold, IBA challenge ride. He already has 2 BBG Trifectas to his credit. His riding adventures are number 1 on the T
op Ten All Time SpotWalla Trips.
Listed below are Greg's
IBA certified BBG
challenge rides:
2 Time finisher of the Iron Butt Rally with a top 10 Gold Podium finish in 2013
2 BunBurner Gold Trifecta
1 BunBurner 3,000
13 BunBurner Gold
Greg is committed to safe long distance riding. He rides within his limits, the limits of his motorcycle and the limits of the riding environment. He knows the risks of exceeding those limits and is committed actively managing the risks. He is a well conditioned and an experienced long distance motorcycling athlete who appreciates training at the edges of his performance limits.
So, if you want to learn more about long distance riding? -- See the Iron Butt Association
"Archive of Wisdom"